Canvass Campaign 2022-2023:
A Moment That Matters – Forward Together!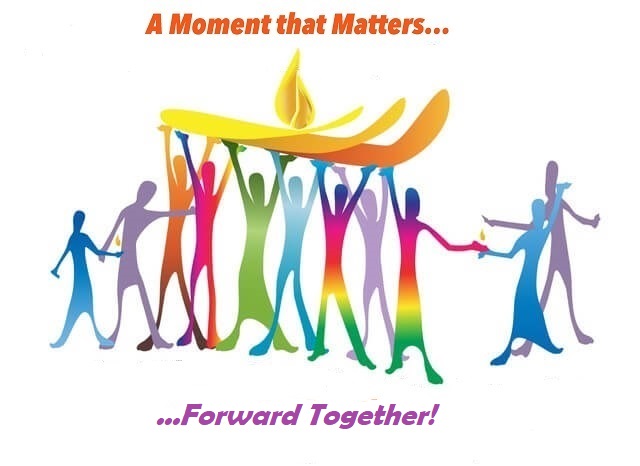 There is no getting around it Friends, this has been a difficult couple of years, finding our lives in upheaval due to a pandemic, illness, loss of family and friends. And yet, we remain in community TOGETHER!
We are our Beloved Community. We are a HOPEFUL people! We come together every Sunday and see each other's faces. We share our joys and concerns. During the week we meet in small groups – for social justice, spiritual growth, poetry, music, for fun – to be together. During this moment, with our Canvass campaign we must come together to continue the life of our community. We must show up to commit to our values and vision that makes us Mission Peak. Each of us demonstrates this commitment through our generosity of time, compassion, money and most of all our love.
This moment for Mission Peak matters; our financial support for our Beloved Community is necessary to ensure its very existence. During this Canvass campaign, we will be meeting in small groups. We ask each of us to purposefully channel our financial generosity as a way to manifest our vision and values. The information below shows our vision informed by our values, and why our financial generosity is so important.
Our theme this year is A Moment That Matters – Forward Together! With our hands united, we can bring the love we want to share, to ourselves, our Congregation, and our community as we go forward together being our Beloved Community.
Valerie Stewart, Canvass Coordinator, canvass@mpuuc.org
---
2022-2023 VISION FOR MPUUC
Choosing our direction is important. Together we can bring the love we want to share, to ourselves, our Congregation, and our community as we go forward together in our Beloved Community. After consulting the various leaders of Mission Peak UU Congregation, the vision for the coming year focuses on three key areas:
ARO – Deepening our commitment to learning and practicing anti-racism and anti-oppression

"How to make the world a more just and loving place."
FELLOWSHIP – Renew the sense of engagement, fun, educational, broad participation that fosters new connections and builds laughter and appreciation among people – within and beyond the congregation.
OUTREACH – For our existing members and programs – look for ways to intentionally go out into the community and let people know we're here, and that in living our UU values, we offer support, solace, meaning and care. Recognizing our membership outreach efforts and intentionally supporting the influx of new people looking for a sense of belonging.
---
---
DeAnna Alm, President
Greetings!
We gather together in times of joy and sorrow, celebration and contemplation, hardship and prosperity. When Covid-19 shut our doors, we gathered together virtually, and had the added blessing of being able to meet again with friends who had moved far away. In a time of quarantine and isolation, we were actually able to stretch our arms wider and offer worship, strength and comfort to people who could not physically enter our doors.
As the situation changed, and then changed again, and then again, we were able to offer hybrid services, in-person for those who could attend, but also maintaining our connection with the people outside Cole Hall. It is in our connection that we continue to find our strength, our purpose, and our drive to carry on even in times of uncertainty and great difficulty. Our commitments are to continue our Anti-Racism/Anti-Oppression (ARO) work, embrace Fellowship in all its hybrid forms, and highlight Membership and Outreach.
Whether we are linking arms in person, or virtually over the miles, we are coming together to do the work that only Mission Peak Unitarian Universalist Congregation can do. It takes the contributions of all of us, contributions of imagination, of memory, of time, of commitment, and yes, of money to keep us alive and welcoming as a community. We are ALL needed, and we ALL have something to offer. This is our Moment That Matters, where we move Forward Together.
---
From Your Minister, Rev. Greg Ward
Looking back, the first time I noticed such a moment was when I was the one lost – after my parents' divorce and I was seven. The fear and confusion I was feeling was coming out as anger. The minister of RE asked me if he could came over once a week so I could help him visit shut in members of the congregation. Our visits lasted months.
The next time, I saw it happen it was after one of our youth advisors lost her son in a car accident. The whole community turned out with food, at first. Then the youth group made a memory collage for the memorial. She talked about her grief for years. We listened. Most recently, I saw it occur for a congregation president who's husband was diagnosed with stage 4 cancer. It came when she had a million balls in the air. And every single person around her stepped forward and kept things from falling apart, so she could. And we did with her.
Each one of these people learned about what it was like to get picked up when they were most down. To face a moment that really mattered and discover what we thought was an end was more than that. That it's possible to face an unfamiliar and overwhelming future, and go forward together.
I want that feeling. For us. Here. Now. I want us to know the surprise of being seen when we felt most alone and invisible. I want us to know the power of community. The realization that our lives are more than the worst thing that's happened to us. To trust that collaboration is possible and that we don't need to white knuckle it to the finish line. To know Love is stronger than fear. Stronger, even, than death.
It's possible here. It happens when we show up. When we do our very best knowing we're doing it for one another. We are in a moment that matters. But all the challenges before us are nothing compared to the heart within us. All we need to do see how the love around us is connected to the love within us and go forward together.
---
2021-22 Budget Income & Expenses
Our 2021-22 budget passed last year in June, 2021 by the congregation has a projected income of $232,918 and expenses of $246,353 for an operating budget deficit of 6% or $13,435. The vast majority of our expenses, 89%, are fixed.
Pledge Data for MPUUC
5% of pledges provide 1/3 of our income.
Our average pledge per household was $3,632.
► We need $3,548/pledge per household for a balanced budget.
For more detailed information, we also encourage you to read How Stewardship Works at MPUUC.
Here is the link to the Canvass Pledge Form to submit your pledge for 2022-2023.
---
We have Matching Pledge Funds again this year!
We are very pleased to announce that three generous households have provided MATCHING FUNDS of $20,000! Increases in pledge amounts from last year will receive a $2-to-$1 match, and every pledge that maintains its current level will have a $100 match.
Please keep this in mind when you think about how much you will pledge.
---
The Fair Share Guide to Giving
During the annual Canvass Campaign each year, we include the Fair Share Guide to Giving,
which is one of the stewardship resources from our denomination, the Unitarian Universalist Association.
Moving toward a Fair Share financial commitment, whether quickly or in a steady, intentional way builds community and instills a spirit of personal stewardship. It reminds us all that this is Our congregation and Our UU movement and that we are together in Beloved Community.
---